Everybody wants to book a flight with a recognized airline. One must consider many factors to select an airline that best suits your requirements and preferences. Dependability, comfort, and safety are a few examples of these factors.
In this blog, we'll discuss Air Canada, a reputable airline in the aviation industry. As Canada's largest and most successful airline, it unquestionably provides advantages that appeal to travelers.
But like every other airline, Air Canada has its disadvantages. We will go over its pros and cons to help you have a better understanding of these traits.
Here's if Air Canada is a good airline
Air Canada is considered a good airline because it offers various flight options, allowing passengers to choose from various destinations and schedules. Also, it has received recognition for its excellent customer service, with staff members that are friendly and attentive.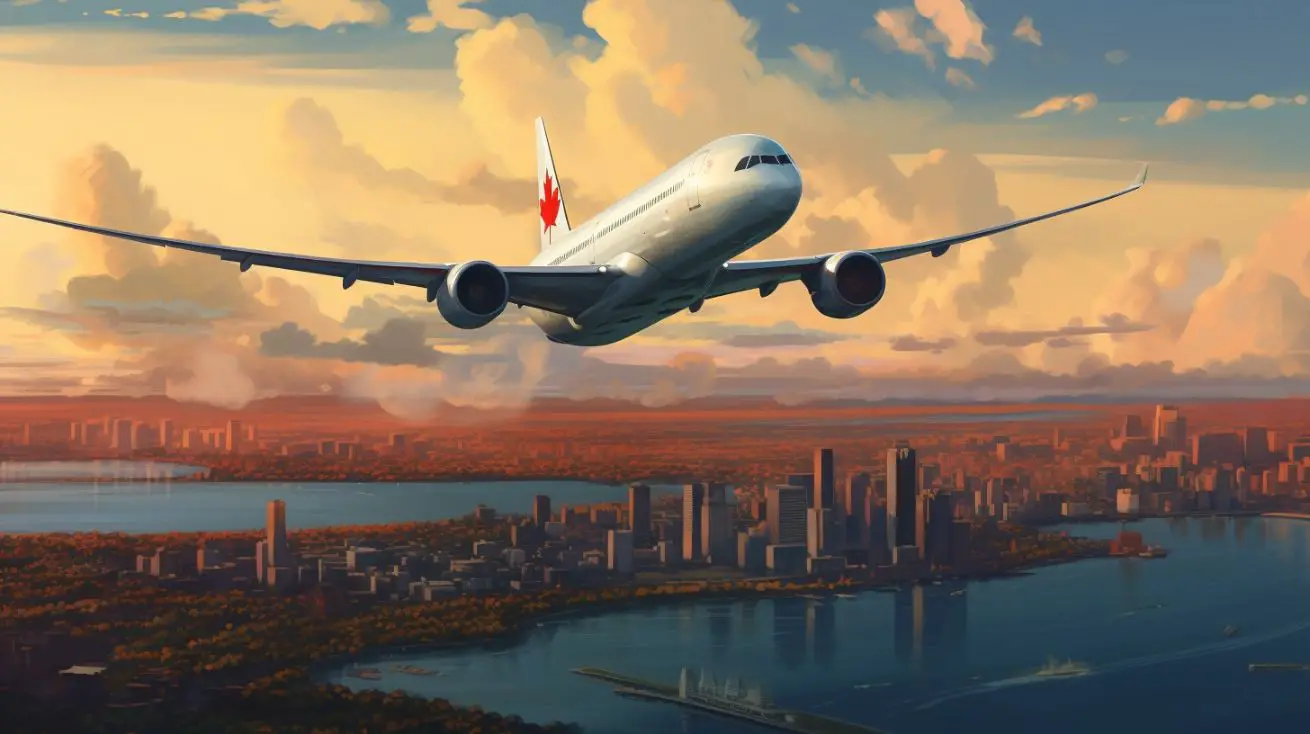 6 Pros Why Air Canada is a good airline
Extensive Network
Air Canada has built an extensive network that spans the globe, offering flights to over 200 destinations worldwide. This extensive network provides travelers with a range of destinations to choose from.
With Air Canada's extensive network, travelers can easily connect to various cities and countries, allowing seamless travel experiences.
Passengers have many options concerning their travel arrangements thanks to the extensive network.
Depending on their desires, travelers can select from various options, including direct or connecting flights.
This flexibility enables travelers to tailor their traveling plans.
Safest Airline
This airline's first focus is the safety and well-being of its passengers.
Air Canada adheres to strict safety protocols and regulations through its extensive safety management system (SMS) to ensure every flight is carried out carefully and cautiously.
SMS takes a proactive strategy to detect and mitigate possible threats to ensure that safety is included in every aspect of the airline's operations.
It includes regular safety audits, risk assessments, and continuous training and education for its employees.
Airline rewards program
Aeroplan, Air Canada's flexible travel rewards program, rewards devoted consumers and offers incentives.
In addition to traveling with Air Canada, members can earn points by using a variety of partners, such as hotels, rental car companies, credit card programs, and retail partners.
This enables users to earn points more quickly and in various ways, making getting the benefits they want more straightforward.
Based on the miles or segments flown in a calendar year, Aeroplan offers a tiered membership structure with levels like Aeroplan 25K, 35K, and 75K and Super Elite.
Benefits specific to each category include early check-in, early boarding, and access to Air Canada Maple Leaf Lounges. The benefits get more exclusive as the tier rises.
Aeroplan provides a variety of other travel-related advantages in addition to flights and upgrades. Members can purchase goods from the Aeroplan eStore, hotel stays, vehicle rentals, vacation packages, and more using their points.
This enables members to maximise their points and take advantage of perks other than just flights.
Quality Service and Professionalism
Air Canada is well known for its outstanding service and professionalism. The airline's cabin crew undergoes rigorous training to provide passengers with a high level of service.
They are known for being friendly, attentive, and committed to ensuring passengers enjoy themselves onboard.
Air Canada provides a variety of cabin classes to meet the different needs of customers. Travelers have the option of taking the comfortable and reasonably priced Economy class.
For those wanting greater comfort, the Premium Economy class provides more legroom, improved facilities, and priority services.
They also offer Business and First Class cabins for travelers who want more extraordinary luxury. Business Class passengers enjoy spacious seating, priority check-in, access to exclusive lounges, and a premium dining experience.
First Class passengers get spacious suites, personalized service, gourmet cuisine, and access to exclusive amenities.
In-Flight Entertainment
Air Canada offers an extensive range of in-flight entertainment options, a key advantage for passengers.
They provide various movies, TV shows, and documentaries catering to different interests and preferences. Passengers can enjoy the latest releases and popular series, ensuring there is something for everyone.
Air Canada also offers diverse music genres, allowing passengers to create personalized playlists or explore new artists and genres.
Additionally, they provide interactive games for different age groups and interests, adding fun and excitement to the journey.
Air Canada continuously updates its entertainment offerings to ensure access to the latest content. This commitment demonstrates their dedication to enhancing the overall travel experience.
In conclusion, Air Canada's in-flight entertainment options provide passengers with a more enjoyable and entertaining travel experience.
Star Alliance Membership
Air Canada's membership in the Star Alliance is a notable advantage for passengers. This global airline alliance enhances Air Canada's reputation as a top airline choice.
Being part of the Star Alliance allows Air Canada to offer an extensive network of destinations, providing passengers with a more comprehensive range of travel options.
Passengers can conveniently connect to various cities worldwide through the alliance's partner airlines. The Star Alliance also offers seamless baggage transfers and access to airport lounges, ensuring a smooth and hassle-free travel experience.
Additionally, passengers can earn and redeem frequent flier miles across the alliance's network, providing flexibility and valuable rewards.
Air Canada's membership in the Star Alliance provides seamless connectivity, benefits, and loyalty program advantages, solidifying its reputation as a preferred airline choice for travelers.
4 Cons Why Air Canada is a bad airline
Baggage Fees
Air Canada's baggage fee policy is a drawback for some passengers as it adds to the overall cost of travel. Passengers are typically allowed free carry-on baggage, but additional bags or exceeding size/weight limits incur fees.
These fees can significantly increase costs, especially for those with multiple or large/heavy items. Passengers should know the policy, check the airline's website or contact customer service for up-to-date information.
Delays and Cancellations
Delays and cancellations are a potential drawback of Air Canada, as they can disrupt travel plans and cause inconvenience.
These disruptions can occur due to various factors, including weather conditions.
However, Air Canada has policies and procedures to handle such situations and strives to provide timely information and assistance to affected passengers.
Passengers are advised to stay informed by checking flight status updates through Air Canada's website, mobile app or by contacting customer service. It is also advisable for passengers to consider travel insurance for added protection.
Pricing
Some passengers may consider a drawback of Air Canada is the pricing of their tickets. Air Canada's ticket prices can be higher compared to some low-cost carriers.
This difference in pricing can be attributed to various factors, including the level of service, amenities, and the overall reputation of the airline.
While low-cost carriers may offer more budget-friendly options, Air Canada positions itself as a full-service airline, providing a range of amenities and services to enhance the travel experience.
These services may include in-flight entertainment, complimentary meals or snacks, and higher customer service. The higher ticket prices reflect the added value and quality that Air Canada aims to provide its passengers.
Crowded Flights
During peak travel, Air Canada flights can become crowded, leading to less personal space for passengers.
This is common during holidays and school breaks. Limited cabin space can make finding overhead storage for carry-on luggage challenging, potentially causing delays.
Reduced personal space can make the flight experience less comfortable, with limited legroom and decreased privacy. Passengers may be more likely to be disturbed by others nearby.
Air Canada alternatives
WestJet Airlines: An alternative to Air Canada could be WestJet Airlines. WestJet is a Canadian low-cost carrier that operates domestic and international flights.
It offers various services and destinations similar to Air Canada, providing travelers with an alternative option for their air travel needs.
Pacific Coastal Airlines: A regional airline based in British Columbia, Canada. It operates scheduled flights to various destinations within British Columbia, Alberta, and the Pacific Northwest.
Iskwew Air: A Canadian airline that offers charter flights and scenic tours primarily in the western provinces of Canada. Iskwew Air aims to promote Indigenous tourism and create opportunities for women in aviation.