Regarding air travel, picking an Airline may make or break your trip. However, choosing the correct Airline can help you have a pleasant and relaxing journey.
Among the many possibilities, Hawaiian Airlines stands out like a tropical oasis, luring visitors with promises of island charm and an aloha attitude. But the question remains: Is Hawaiian Airlines a worthy carrier, worthy of our confidence and hard-earned money?
In this in-depth investigation, we will find the virtues and vices that distinguish this Airline, allowing you to decide about your next vacation.
Here's if Hawaiian Airlines is a good airline.
While Hawaiian Airlines has become the most beloved Airline among Hawaiians and some parts of the world, it is also considered a safe airline with great islands soaring. Since its foundation in 1929, the Airline has built a position for itself as a significant airline, linking the rest of the world to the enthralling Hawaiian Islands.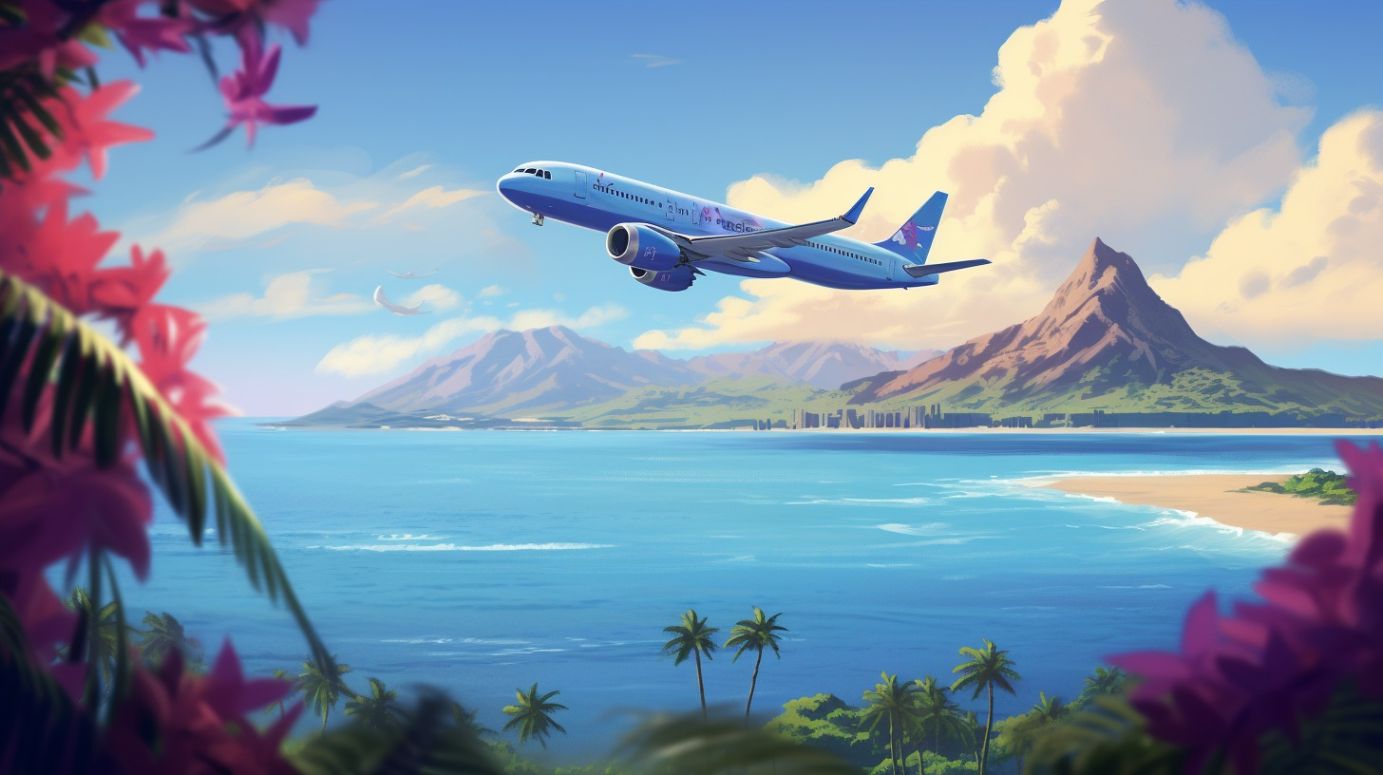 7 Pros why Hawaiian Airlines is a good airline
Global connection
Do you have a dream of exploring the world and uncovering the hidden places of this universe?
Hawaiian Airlines has your back with the lineup of international flights. You are guaranteed to find places to call home away from home.
The Airline connects passengers with wonderful Hawaiian islands and ten other international destinations.
Comfort and Entertainment
Comfort and entertainment are paramount in the aviation industry, especially during long hauls. Hawaiian Airlines has mastered this art.
The seats are fitted with screens loaded with every kind of movie, including television shows.
You can be assured that you will reach your destination feeling rejuvenated and ready to embrace your adventures. You can bid farewell to monotony while traveling with Hawaiian Airlines.
Customer satisfaction
Hawaiian Airlines strives to offer customer satisfaction to its esteemed customers. The Airline comprises passionate employees who extend their 'aloha' sense of dedication to passengers.
Hawaiian Airlines' competitive advantage is its tailored customer service to Hawaii-bound leisure customers.
For example, Hawaiian Airlines prioritizes the convenience of the locals from the West Coast, such as California, Washington and Oregon, when scheduling flights that travel across the Pacific Ocean.
They don't schedule flights to coincide with passengers from other places intending to connect with transpacific flights.
Instead, Hawaiian Airlines wants to focus on the local customers and offer customer satisfaction.
In addition, Hawaiian Airlines has some beautiful lie-flat chairs in first class and legroom comfort. At the same time, economy class is also equipped with nice seats and in-flight entertainment, allowing you to fly with Hawaiian Airlines.
Punctuality
Hawaiian Airlines is notable for its punctuality; keeping customers at bay is something they have eliminated from their everyday routine.
Whether you are planning a family vacation to explore the magnificent landscape of Hawaii's islands and beaches or a business trip, Hawaiian Airlines will always have your back.
The Airline's commitment to offering on-time service guarantees passengers a stress-free travel experience.
You may relax with your favourite drink or snack, knowing you won't miss your connections or be late for important meetings.
Their meticulous planning, efficient ground operations, and experienced flight crews all contribute to their exceptional track record of on-time performance, giving you a smooth and reliable travel experience every time.
Efficient check-ins process
The Hawaiian flight check-in process is fairly quick and smooth; the Airline provides 24 to 60 hours of check-in before departure time. You can do this from the comfort of your mansion.
To do this, you must visit the website and follow the directions to be able to fly with Hawaiian Airlines. It is a really simple procedure that saves you time.
Check-in at the airport is also fast; you do not have to worry about catching your flight.
In-flight experience
A flight with Hawaiian Airlines is more than just a mode of transportation; the cabin environment resonates with the extraordinary service provided.
The inflight experience with Hawaiian Airlines includes a lot, including free WI-FI connectivity, allowing you to catch up on work while flying 30,000 feet above sea level.
With delightful meals tailored to local flavours and the finest ingredients, culinary delights are served to improve your in-flight experiences.
Passengers in the economy can also enjoy hot meals at no extra cost – and often two meals on long domestic flights.
You can purchase certain typical Hawaiian foods or drinks, such as guava juice mix. I bet Hawaiian Airlines will make your trip count.
Loyalty programs
How does it feel to fly for free, enjoying the ambience and Hawaiian first-class food? All this is possible with frequent flights with Hawaiian Airlines.
The Airline offers "HawaiinMiles Reward," an award granted to loyal customers who have trusted Hawaiian Airlines to reach their destination.
The program allows you to accumulate and redeem miles for travel and other enticing rewards, further enriching your voyages.
5 cons why Hawaiian Airlines is a bad airline
Limited flight Destinations
Hawaiian Airlines is best known for flying to and from Hawaii; the Airline has limited destinations, mainly focusing on the islands of Hawaii.
If your dream destination is Hawaii, that is okay, but let it not hinder you from exploring the hidden treasures in the outside borders of Hawaii.
Despite offering the best domestic flights, it is better to hit the road and find.
Lack of customer support.
Sometimes, waiting for assistance at Hawaiian Airlines is like staring at a snail race; passengers have experienced some sluggishness when getting assistance.
You might be in the middle of resolving booking issues, inquiring about flight changes, or addressing other concerns.
The wait for customer support can be frustratingly long.
These delays experienced by travelers can be stressful and dissatisfying, especially when they need agent assistance.
Baggage Fees
Hawaiian Airline, like any other airline, have charges for checked baggage. This will have a significant impact on your travel budget.
If you intend to travel for long trips, you have no choice but to comply, but if it is for short travel, carry-on luggage is suitable.
Ageing Fleet
Ageing flights are another detrimental factor of Hawaiian Airlines; the Airline still operates with old flights, causing delays before departure.
Even though the Airline has been soaring the skies for a long time, it brings a lot of dissatisfaction and distress to passengers before, during, and even after the flight.
The shining part of Hawaiian Airlines is that they are taking steps to modernize the flights and adding more reliable aircraft.
Price Fluctuations
Demand, the moment of booking, and seasonal variations are some of the variables that can cause Hawaiian Airlines ticket rates to alter occasionally.
One day, you may discover a fantastic flight deal, but the following day, the cost may skyrocket.
Planning your excursions or staying below a strict budget may be difficult due to this uncertainty.
However, if you watch ticket prices and reserve during lower demand, you can still find reasonably cheap tickets with some flexibility and patience.
Hawaiian Airlines alternatives
There are numerous options to consider if Hawaiian Airlines is not the best fit for you at some point.
Delta Air Lines, American Air Lines, and United Air Lines are well-known carriers you can choose to travel to and from Hawaii.
Each of these has both positive and negative aspects. Before selecting one, you should compare them.
Customer preferences and priorities determine whether Hawaiin Airlines is poor or good. Hawaiian Airlines is a popular option for many travelers because of its local connections, comfort, and entertainment, and its focus on the needs of its passengers. You should exercise caution when it comes to the Airline's drawbacks. Nevertheless, they have the potential to make or break your trip to the paradise of Hawaii.