United is an airline that combines reliability, exceptional service, and a commitment to passenger satisfaction, making it the best and leading airline in the market.
It focuses on delivering a seamless and enjoyable travel experience that goes above and beyond to ensure that every passenger feels valued and cared for.
Whether you are a frequent flier or planning a once-in-a-lifetime trip, United Airlines has you covered. It has a reputation for being a top choice among travelers and for a good reason.
It offers a range of experiences depending on factors such as class of service, destination, reservation, and check-in options, among others. The airline serves many destinations across six continents, thanks to its hubs and major bases.
Here's if United Airlines is a good Airline
United Airlines offers a vast network of domestic and international destinations, providing travelers with various options. It prioritizes passenger well-being and adheres to strict safety standards. United also offers various amenities and services, including comfortable seating, in-flight entertainment, Wi-Fi connectivity, and a frequent flier program allowing passengers to redeem miles for future travels.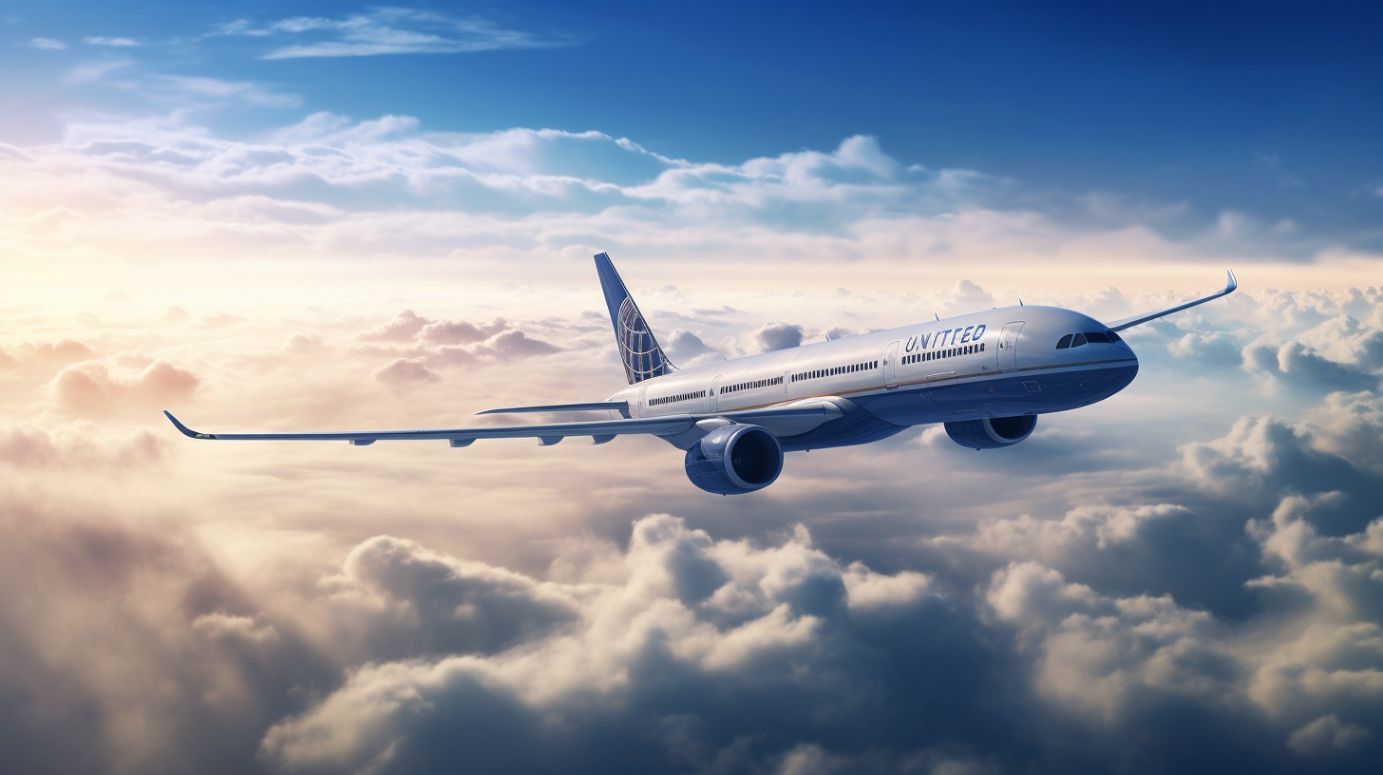 9 Pros Why United Airlines is A good Airline
Extensive Route Network
United Airlines operates flights to numerous destinations, providing passengers with a wide range of routes.
Domestically, United Airlines serves major cities and regional hubs across the country, from bustling metropolises like New York City, Los Angeles, and Chicago to smaller cities and towns.
It connects travelers to various destinations within the United States.
This extensive domestic network allows passengers to conveniently reach their desired locations, whether it's for business or leisure purposes.
Internationally, It offers flights to locations on six continents from well-known tourist locations, including Sydney, Tokyo, and Paris. United Airlines' vast network offers flexibility and convenience to its customers.
Whether you're looking for direct or connecting flights, United ensures you have a wide range of options to reach your destination.
Additionally, by connecting with other airlines through global alliances like Star Alliance, United Airlines gives customers access to broader destinations via its partner airlines.
Even if United Airlines doesn't offer a direct trip to your preferred location, they may provide convenient connections through their partner carriers.
Excellent Customer Service
To make sure that passengers have a pleasant and comfortable flight, United Airlines places a major focus on delivering great customer service. According to Statista, United Airlines scored 77 points out of 100 in 2022 for having the best customer service, which is great!
The airline makes a point of going above and beyond to satisfy the demands and expectations of its customers.
Passengers can expect friendly and professional service from the staff throughout their journey, whether at the check-in counter, during boarding, or onboard the aircraft.
They are ready to assist with passengers' needs, be it queries, concerns, or special requests that passengers may have.
Safety
In a survey of the world's safest airlines for 2021, AirlineRatings.com ranked 385 airlines and placed United among the top 20.
United Airlines places the greatest importance on the safety of its passengers.
The airline is committed to strict safety protocols and regulations to ensure a secure and comfortable travel experience for everyone on board.
It also places a high priority on staff training. Their personnel participate in training courses covering various safety practices, emergency procedures, and risk management techniques.
This training ensures the team is ready to manage any issue that may develop on the ground or during a flight.
Reliability
United Airlines is a major global airline that aims to offer a dependable service.
However, there may be instances where unexpected circumstances lead to delays or cancellations. Several factors, including weather conditions, maintenance schedules, and operational efficiency, can influence these.
It is advised to frequently check with customer care to stay current on flight schedules and any potential delays.
No Weight Restrictions on Carry-on Baggage
When flying with United Airlines, there are no weight restrictions on carry-on luggage, contrary to some other airlines.
This policy lets travelers bring their essential items and personal belongings on board without worrying about exceeding weight restrictions or paying an additional price.
United Airlines emphasizes the dimensions and size of the carry-on items more than their weight.
But depending on the aircraft and the class service, these can be subject to change.
WiFi & Messaging Available
This feature allows passengers to stay connected and keep communication going even while in the air.
In addition to WiFi, United Airlines also offers messaging services on select flights. Passengers can use messaging apps like WhatsApp and iMessage to send and receive text messages.
Remember that WiFi availability and cost may vary depending on the aircraft or class of service. Some flights may offer complimentary WiFi access; others might charge or provide a range of pricing alternatives.
Cheaper International Fares
International flight customers can find affordable solutions for their destinations thanks to United's regular promotions, discounts, and special offers.
Travelers can benefit from reduced tickets by keeping an eye on these deals and could be able to reduce their out-of-country travel costs.
In-Flight Dining options
United Airlines provides a range of dining options onboard, depending on the flight duration and class of service.
Passengers can enjoy complimentary snacks and soft drinks on shorter flights, while flights lasting longer than three hours offer a selection of meals and beverages.
Depending on the flight's route, the food options may vary, but there is always an option to choose from.
MileagePlus Loyalty Program
The program's ability to earn miles for travel is one of its key benefits. Passengers can earn miles based on their ticket's pricing class and distance traveled.
These miles can then be exchanged for a range of benefits, such as free flights, cabin class upgrades, hotel stays, rental cars, and more.
Elite status tiers are a feature of the MileagePlus program in addition to earning and redeeming miles. These levels are determined by the number of miles or segments flown during a year.
Premier Silver, Premier Gold, Premier Platinum, and Premier 1K are the different levels of elite rank. Benefits specific to each grade include priority boarding, entry to United Club lounges, and additional baggage allowance.
2 Cons Why United Airlines is a Bad Airline
Limited Legroom
The variation of legroom and seat comfort is a disadvantage of traveling with United Airlines.
Although United Airlines has various seating options available throughout its fleet, the legroom and general comfort of the seat might vary based on the kind of aircraft and level of service.
Sometimes, especially on shorter flights or in economy class, travelers could experience a lack of legroom. For those who want more room or are taller, this may lead to a less comfortable encounter.
Additionally, some passengers might not find the seat padding and recline choices as plush as they would like.
Flight Change and Cancellation Policies
United Airlines' flight change and cancellation policies may not always be the most flexible or accommodating.
Depending on the fare type and ticket conditions, changing or canceling a flight with United Airlines may incur fees or restrictions.
Baggage Policies and Fees
United Airlines has specific baggage policies and fees that passengers should know.
This includes limitations on the size, weight, number of bags allowed, and potential fees for checked baggage or overweight/oversized items.
Bags are limited to a weight of 50 pounds. However, you are allowed to bring a bag that weighs up to 70 pounds if you are flying first class.
United Airlines alternatives
Delta Air Lines is an alternative to United Airlines. Being a major American airline, Delta Air Lines provides a wide choice of pricing alternatives, an extensive route network, and great customer service. They have a solid reputation for dependability.
Alaska Airlines
Alaska Airlines has competitive pricing, extensive route networks, excellent customer service, more generous baggage policies, and a loyalty program. These factors make Alaska an attractive option for travelers seeking alternatives to United Airlines.
Southwest Airlines
Known for its wide domestic route network, serving both domestically and internationally throughout Mexico, Central America, and the Caribbean. Southwest has a distinctive business strategy that emphasises low prices, frequent flights, and top-notch customer service.