When it comes to choosing materials for tarps and tents, different materials have distinct advantages and disadvantages, and deciding which trade-offs to make is necessary for selecting the "right" one. Do you prefer it to be lightweight, long-lasting, or inexpensive? You can select one of the three options, but not all three at the same time.
Silnylon is a common basic material used in tents. This is a nylon layer that has been silicone-coated on both sides. Silicone strengthens the tear while also making the fabric water-repellent or waterproof.
Polyester is occasionally used in place of nylon in the same process. This is known as Silpoly. Silpoly is gaining popularity as a DIY tent and tarp material due to its numerous advantages. However, the majority of large manufacturers continue to use Silnylon.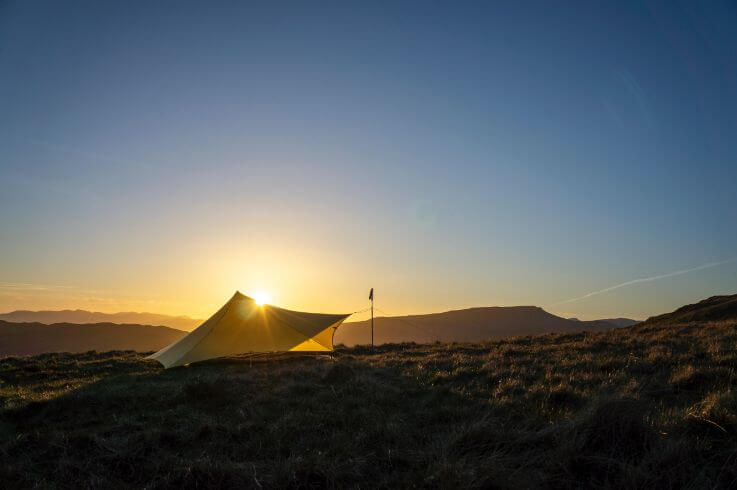 Silpoly vs Silnylon – Key differences
As their names suggest, silpoly is silicone-coated polyester, and silnylon is silicone-coated nylon. The materials are then stitched together to form a tarp.
Polyester is naturally more waterproof than nylon, but it is less elastic, heavier, and more delicate. It's much better with an additional waterproof coating. Nylon, on the other hand, is hydrophilic, which means it absorbs water over time. Polyester is the ideal choice for a greater waterproof rating, while silnylon is lighter, stronger, and more elastic if weight is not an issue.
Here are some of the key differences between the two:
Durability
A nylon-based tarp would be a better option for use as a groundsheet. They are more resilient and elastic than polyester tarps, so they will protect the floor of your tent from punctures and abrasions. Silpoly, in comparison, is more resistant to UV rays and will last longer in warmer, brighter surroundings.
Packability
In terms of packability, there is little difference between the two textiles. Perhaps silpoly is superior in this situation, but only by a hair's breadth; yet, this does not justify choosing between these two items.
Rain performance ( waterproofness)
Silpoly is the finest material to use if your tarp will be exposed to heavy rain over a lengthy period. It is made up of nonpolar molecules that repel water, rendering it hydrophobic. With the addition of a waterproof coating, they can be fairly effective against heavy precipitation.
Hydrophilic Silnylon absorbs water, causing it to swell. Due to the likelihood that the material will sag more as it absorbs water, tensioners will be required. Numerous products on the market now are constructed using polyurethane-coated ripstop nylon.
Due to the way it is weaved, this type of nylon (ripstop) is durable, lightweight, and water-resistant, making it a fantastic alternative for camping and those seeking to save weight.
Price
Both Silipoly and Silnylon are relatively cheap. The price range between them will be mostly similar if they have similar weights. Therefore, the price is determined by the weight of the material used.
At $7 to $10 per square metre, SilNylon is the most expensive, followed by PU Nylon at $3 to $5 per square metre and Silpoly at $2 to $3 per square metre.
The complexity of the processing also has an impact on the cost. SilNylon is the most complex fabric to process, far more difficult than other materials.
Weight
Silnylon is usually lighter than Silpoly since it is woven to achieve lightness.
| | | |
| --- | --- | --- |
| | Silipoly | Silnylon |
| Material | Woven polyester | Woven nylon |
| Weight (assume 20 Denier thickness) | 1.1 oz/yd. sq. | 75oz/yd.sq. |
| Durability | It is less durable than nylon | Strong and long-lasting. |
| Water Handling | Polyester is hydrophobic, which means it naturally repels water. The coating is also beneficial. | Nylon is a hydrophilic material that likes to absorb and tear water. The coating improves its water resistance. |
| Stretch | Slight stretch, decent placement, but limited staking. | Stretch more for more comfortable staking down experience. |
| Sag | Regardless of temperature or moisture, it remains taut. | Sagging when the temperature drops or rain falls. |
Clearly, silpoly and silnylon each have advantages and disadvantages. Silnylon is more durable and lighter than its thickness would suggest, yet it must often be thicker to repel water and preserve its shape. Polyester, on the other hand, is less likely to last.
What is Silpoly?
Silpoly, as the name implies, is a silicone-impregnated polyester fabric. Silpoly textiles are ideal for creating a waterproof membrane for tents, tarps, and other camping shelters.
Silpoly is an ideal choice due to its longevity, low cost in comparison to other materials, and dependability. Silpoly textiles are extensively used in the industry for waterproof tarps and tents.
Because Silpoly is less expensive than other materials, it is possible to construct lightweight and waterproof tarps that compete with or even outperform many of the more expensive materials used for lightweight trekking.
Silpoly is ideal for ponchos, gear sacks, pack covers, and other things that require a long-lasting waterproof or windproof fabric. Silpoly's other benefits include its resistance to heat and stretching, as well as its lifespan with proper treatment.
What is Silnylon
SilNylon is a silicone/nylon blend. It is made by applying liquid silicone on both sides of a tiny piece of nylon fabric. Because silicone significantly improves tear resistance, the material is surprisingly durable for its weight.
As it dries, the material becomes waterproof and significantly more tear-resistant. Because of the fabric's lack of breathability, it is inappropriate for garment production.
Silnylon is a popular material for tents and other camping equipment, and it is used by outdoor enthusiasts all over the world.
The sole disadvantage is that it is somewhat pricey, making it an unsuitable alternative for low-budget camping.
Varieties of Silnylon
There are various other variants of this fabric, and they differ from manufacturer to manufacturer; nevertheless, we shall concentrate on the three most prevalent retail types.
Classic Silylon
When moved or rubbed against itself, this type is smooth, slippery, and soundless.
Crisp Silnylon
This cloth is more delicate, loud, and prone to tearing than normal cloth.
66 Nylon
Although slightly heavier than standard silnylon, it has a far better tensile strength, which is why parachutes are made of it. More sturdiness and wear resistance are generated for a fraction of the weight.
What Is the Purpose of Silnylon?
This material is commonly utilized to make lightweight and durable equipment that is popular with travelers all over the world. It has numerous applications (extreme sports, the military, and construction), but in this section we will focus on those with an exterior application.
Tents
Sleeping bags
Liners
The remains of tents
Ponchos
Tarps
Some apparel as well.
Even the bags for the aforementioned equipment are typically constructed of silnylon. This fabric is also used to make tents and sleeping bags, ensuring that your gear stays dry no matter what the weather.
Is silnylon waterproof?
Yes, silnylon is waterproof. When comparing tents or tarps, it's crucial to understand how the "waterproofness" of materials is defined because silnylon comes in a variety of thicknesses, weights, and levels of waterproofing.
Some silnylons are additionally coated with polyurethane, abbreviated as "PU," as in "Sil/PU," and are best thought of as a new fabric type because it fundamentally modifies the qualities of the fabric.
Best Silpoly Tarp – UGQ Outdoor Cat Cut 12 x 12
This extra-large tarp is composed of coated silpoly and has the best waterproofing properties available. It provides excellent UV protection and has extremely low water absorption rates. It also provides good wind protection.
Features
It has a hydrostatic head of more than 2,500 mm.
It does not sag or stretch when wet.
Cons
Stakes, manlines, and ridge lines are not given.
Best Silpoly Tent – MSR Elixir
MSR produces amazing tents. The three-season Elixir tent comes in one-to three-person sizes, with the one-person tent weighing 4 lbs. 12 oz. It adds weight to the Elixir, but it is intended for individuals who need protection from adverse conditions.
Despite the fact that most current tents are made of nylon, a few use a blend of nylon and polyester.
Features
It has a 70D taffeta material floor with a 3,000 mm hydrostatic rating and a footprint to protect the tent floor.
The rain fly is made of 68D ripstop polyester and can withstand 1,500 mm of rainfall. Polyurethane has been applied to both fabrics.
It has an outstanding performance under adverse conditions (wind/rain).
It is made up of a footprint.
Cons
A touch heavier than usual.
Best Silnylon Tarp – Paria Outdoor Products Sanctuary Siltarp
This highly rated, mostly silnylon tarp spans 6 by 10 feet and comes with everything you need to build a shelter right away.
Features
It's compatible with trekking poles, so you can quickly build an A-frame shelter with your trekking gear.
It is also hydrostatically tested to 5,000 mm and has factory-taped seams to prevent water leaking.
Light and reflective Dyneema manlines, adjusters, and alloy Y-stakes are included in the kit.
The cost is also affordable.
Best Silnylon Tent – Big Agnes Copper Spur
This line of tents, available in one, two, or three-person configurations, is well acclaimed in the backpacking world. The rain fly is composed of silicone-treated ripstop nylon with a 1,200 mm rating and is both lightweight and capacious (the 2-person tent weighs only 3 lbs 1 oz and has 29 square feet of floor space).
Features
They are small and lightweight, making them ideal for backpacking.
They are simple to sell.
They have a plethora of handy interior compartments.
Cons
Comparable tents on the market have more headroom.
Read more: Best DCF Tents
Bottom Line
The primary distinction between silpoly and silnylon is that nylon is hydrophilic, which means it absorbs water, causing the fabric to sag and become heavier under prolonged rains.
Polyester, on the other hand, is hydrophobic, which means it does not absorb water like nylon, but it is less robust, heavier overall, and has less stretchability, requiring much superior positioning and applications to attain its full potential.
Both of their names begin with Sil, indicating that they are silicone-coated.
See related: Can You Backpack With A Pop-Up Tent?
Sources
https://youtu.be/3Cc3lOTyTYQ
https://youtu.be/W47QauLAXgs