Republic Airways is a regional airline in the U.S. operating through partnerships with American Airlines, Delta, and United Airlines. With 10 bases in the U.S. and some 200+ Embraer 170/175 jets, the airline operates over 900 daily flights to 80 cities in the U.S., Canada, and the Caribbean.
As a regional airline mainly relying on partnerships with major carriers, you might expect less with Republic. But honestly, your experience with the airline may vary depending on the plane you've boarded, your destination, your preferred class of service, customer support, and your experience with the flight crew. Let's get started so you better understand what it is like to fly with Republic.
Here's if Republic Airways is a good airline
Republic Airways is a reliable and safe regional airline with good on-time performance. It makes it easy and transparent to book and check-in for flights through its partner airlines. It also offers customers admirable flexibility to change their flights without incurring heavy costs. Moreover, travelers flying with Republic can enjoy the benefits of its partner airlines' loyalty programs.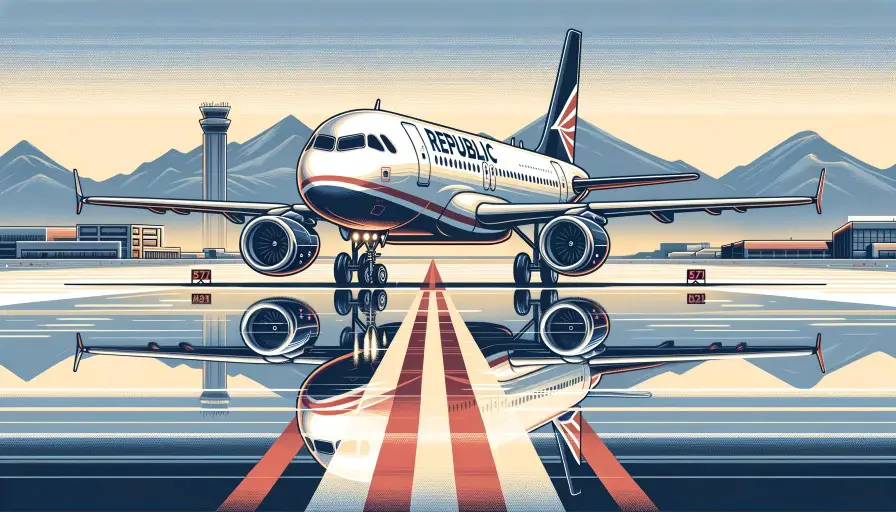 7 pros why Republic Airways is a good airline
Republic offers several perks and benefits, which customers have sworn by in certain aspects. These are the 7 reasons why Republic Airways is a good airline.
Republic is a safe airline to fly with
Republic Airways has established a reputation as a safe regional airline to fly with, and all its partner airlines consistently appear among the safest airlines globally.
According to the AirlineRatings.com website, a certified aviation safety data provider, Delta, United, and American Airlines take pride in being among the top 20 safest airlines globally out of 385 carriers.
The evaluation considers a comprehensive range of important factors, including an airline's fleet age, industry-leading safety initiatives, recent crash history, serious incidents over two years, government audits, and audits from aviation governing bodies and leading associations.
Republic demonstrates an outstanding performance because it has gained a satisfying record of safe operations over more than two decades.
It is a reliable carrier with good on-time performance
If your primary concern when choosing an airline is punctuality, Republic won't disappoint you.
The airline is a dependable regional operator with impressive on-time performance, just like the larger carriers for which it operates flights.
All three partner airlines have impressive scores for on-time performance, ranging between 76% to 84%.
This is according to OAG, the renowned global travel data provider, and it means the planes arrive or depart within 15 minutes of the scheduled times for up to 84% of the time.
Moreover, the Republic will rarely cancel flights unless extremely necessary, like in the case of extreme weather.
You have the flexibility to change your flights stress-free
Republic allows customers flexibility in changing their flights and charges no cancellation fees.
This allows you to change your flights seamlessly and with peace of mind, unlike with some airlines.
This goes courtesy of the initiatives of its partner airlines. For example, while United Airlines would charge a $200 fee for changing or cancelling flights, it has recently dropped the fees.
Likewise, Delta and American Airlines have dropped their cancellation fees, which is handy if you enjoy flexible schedules and travel plans.
Remember, you might have to deal with critical family matters, rescheduled appointments, and unforeseen incidents that already cost enough mental capital.
It is easy to make reservations and check in for flights
Making reservations with Republic is hassle-free and transparent, as you can quickly do it online via its partner airlines' websites and mobile apps.
You can also call their reservation lines or book your flights at the respective airport hubs.
Eligible flyers can check in online 24 hours before departure or physically check in at a hub.
Like most regional airlines that have partnerships with major carriers, Republic advises its customers to visit the websites of its respective partner airlines in order to book, check-in, or manage flights.
Flying with Republic allows access to the partner airlines' loyalty programs
While Republic Airways doesn't expressly offer a loyalty program for frequent flyers, customers who purchase their tickets directly through Delta, United, and American Airlines can earn these airlines' mileage points and redeem the benefits on future travel.
For example, you can sign up for Delta's SkyMiles loyalty program free of charge and earn redeemable points that never expire when you fly with Republic through Delta Connection.
Of all the three major partners, the United Airlines MileagePlus loyalty program offers frequent flyers the most award destinations.
You can work your way up, earning various rewards and benefits like priority boarding and early check-in with the more miles you earn. It is also possible to earn as much as 80,000 bonus miles.
Republic Airways customers can enjoy the Star Alliance benefits
Like most regional airlines that partner with major carriers, Republic is not directly part of any airline alliance, but it allows travelers to enjoy the benefits that accrue to Star Alliance members if they're customers of its partner airlines.
The Star Alliance network is the world's largest airline alliance, and its member airlines can offer great perks to their customers.
A great example is United Airlines, whose MileagePlus customers can earn and redeem award miles on other renowned airlines like ANA, Swiss Air Lines, and Lufthansa.
Most travelers think highly of Republic Airways
Republic Airways transports thousands of customers daily across North America and the Caribbean, and most first-time travelers agree they'd fly with the airline again.
Only a handful of regional airlines have earned such a reputation, and it all boils down to the quality of their services and meeting customer demands.
According to a recent J.D. Power North America Airline Satisfaction Study, Republic and its major partner generally earn favorable rankings in terms of customer satisfaction.
The J.D. Power evaluation considers eight factors: boarding, inflight services, baggage handling, and various costs and fees.
2 cons why Republic Airways is a bad airline
While Republic Airways is a dependable regional operator that most travelers find worth flying with, it also has a few things that bother some customers.
These two reasons make it the least favorite airline among other customers.
The seating is smaller and less comfortable
Republic operates Embraer 170 and 175, considerably smaller jets, and their seats might feel a bit cramped even for short domestic flights.
Notably, such planes also have smaller windows and overhead compartments that intensify the experience, so you might want to consider flying with another airline if you abhor this feeling.
Limited amenities and no inflight entertainment
Most airlines offer a range of onboard amenities and entertainment options. That said, you'd expect seatback screens and inflight WiFi with Republic. But that's not the case.
While facilities may vary slightly depending on the airline for which Republic operates, you should generally not expect any meaningful inflight amenities or entertainment with the airline.
You might find an inflight magazine at most, so it's best to bring your own entertainment gadgets and hope to find onboard WiFi on the plane you'll board.
Republic Airways alternatives
Depending on your specific needs and preferences, Republic may fail to meet your traveling expectations. As such, it might make more sense to fly with another reputable carrier, and these are the best alternatives to Republic Airways: