Sun Country Airlines is an ultra-low-cost carrier that prides itself in being the 11th largest airline in the U.S. by passengers carried. Headquartered at the Minneapolis-Saint Paul International Airport, the airline operates over 120 passenger routes to 94 destinations in North America, Central America, and the Caribbean.
Sun Country has direct flights from Minneapolis to places like Florida as a convenient option for budget travelers. However, it has higher additional fees than larger carriers like Delta and United. Let's get started so you better understand what it is like to fly with SkyWest.
Here's if Sun Country Airlines is a good airline
Sun Country Airlines is a dependable ultra-low-cost airline, and travelers also love it because it operates multiple routes between North America, Central America, and the Caribbean. It offers comfortable seating options, a rich variety of complimentary beverages, classic vacation deals, and convenient inflight amenities, including free entertainment. Moreover, the airline has a competitive loyalty program called Sun Country Rewards.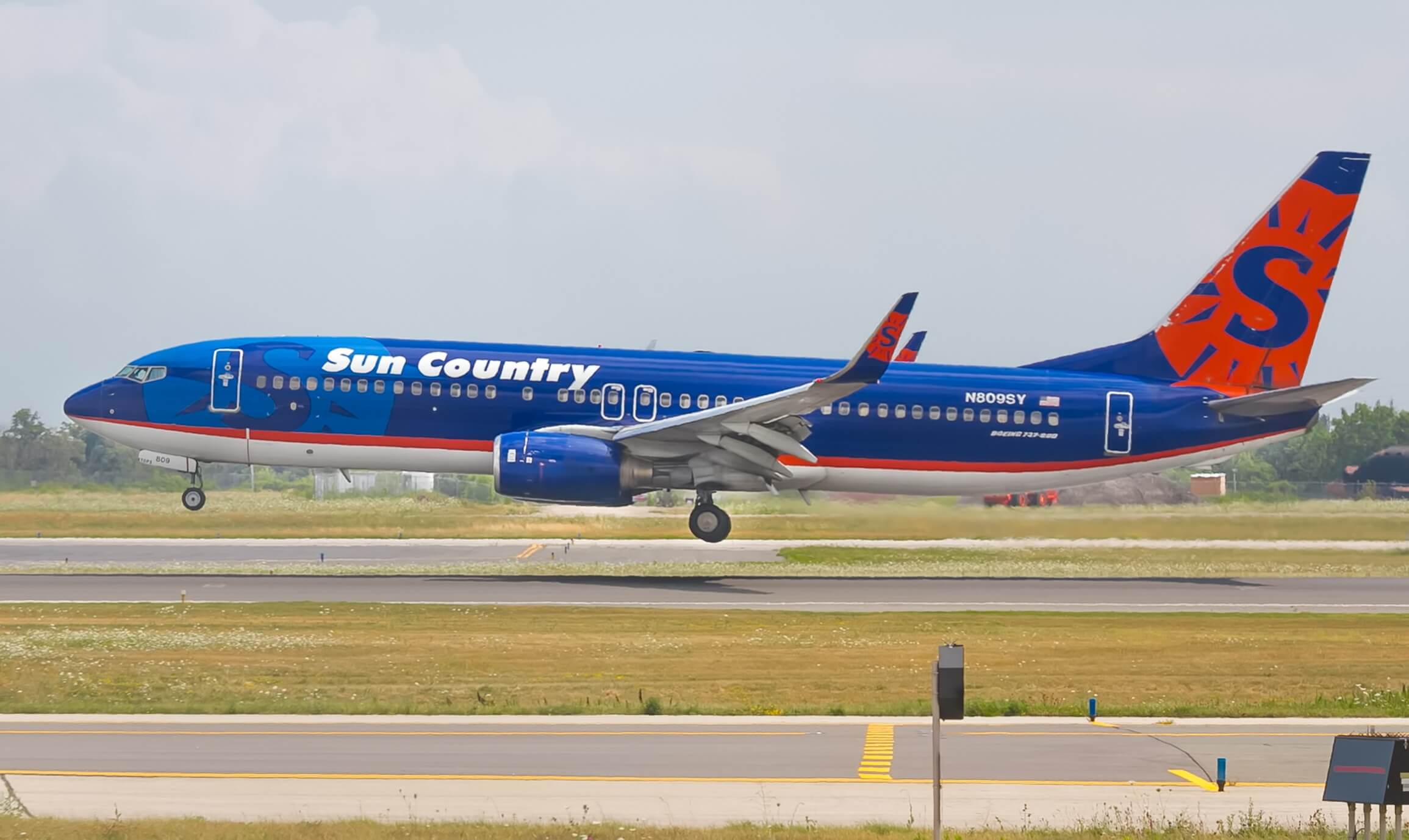 7 pros why Sun Country Airlines is a good airline
Sun Country performs exceptionally in some areas and offers perks you may not enjoy with other airlines, including renowned regional carriers. These are the 7 reasons why Sun Country Airlines is a good airline.
It is easy to make reservations and check-in for flights
Sun Country Airlines gives travelers a seamless experience when making reservations, and you can quickly do it online on the airline's official website.
Alternatively, you can call the reservation line at 651-905-2737 or book physically at the hub airport.
Similarly, eligible flyers can check in for flights hassle-free, and the best way to do it is online, 24 hours before departure. You can also manage your trips online.
It operates multiple routes between North America, Central America, and the Caribbean
Sun Country offers year-round services across the U.S. and Mexico from its Minneapolis hub.
There are also departures scheduled from Las Vegas, Dallas, and Portland.
Notably, the number of scheduled daily flights usually increases dramatically during the warmer months, with seasonal flights available to Vancouver, Central America, and the Caribbean.
With options like Aruba, Belize, Jamaica, Costa Rica, the Dominican Republic, and the Turks and Caicos Islands, travelers can enjoy multiple leisure destinations with unique experiences.
Moreover, Sun Country has an interline agreement with Condor to provide nonstop flights to Germany.
Sun Country Airlines offers comfortable seating options
Sun Country Airlines exclusively flies a robust fleet of Boeing 737s to ensure your flights are as comfortable as possible.
While all passengers sit in a singular stretched cabin, the seats are comfortable, with at least 30 inches of legroom.
The "Best" option has seats with as much as 34 inches of legroom and an extra 50% recline if you don't mind paying to select your spot.
You can expect an alcoholic beverage when you select this seat, a feat you'd only enjoy in first class for most airlines.
The second option is the "Exit Row" seat with 9 inches of extra legroom.
If you don't need extra legroom with the two seating options, you can opt for a standard seat on most flights.
The airline offers plenty of complimentary beverage options
Sun Country is one of the few airlines that offer a wide variety of food and beverages onboard, including non-alcoholic drinks, which are complimentary on their flights.
You can buy wine, beer, liquor, and snack boxes with your MasterCard or Visa credit cards.
Like most airlines moving to a cashless flight experience, Sun Country doesn't accept cash onboard.
Sun Country Rewards is a competitive loyalty program
Sun Country gives frequent flyers the opportunity to earn points for future flights through Sun Country Rewards, its competitive loyalty program.
As it turns out, there are limited ways to earn the points and limited ways to redeem your rewards for future flights.
The rewards are usually most valuable if you know of Sun Country's seasonal routes that you can take advantage of.
The airline offers worthy vacation deals
One of the greatest perks of flying with Sun Country is its great deals for all-inclusive vacation flights and hotels.
You can even buy tickets to various activities and events through the airline's website.
Moreover, travelers can bundle their flights, hotel, and other activity fees with Sun Country to save vacation money.
If you have travel flexibility, you can leverage the "featured deals" section on the airline's website to help you save even more on flights.
It has convenient inflight amenities and free entertainment
While the only cabin class is Economy, Sun Country's planes have an impressive range of amenities.
Most seats come with USB charging ports, and there are upgradable seats with AC outlets so you can plug in your devices and stay connected throughout your flight.
Best of all, passengers enjoy free entertainment, including movies, shows, games, and music.
You don't need any app to download, as you can simply stream from your browser on your personal devices.
4 cons why Sun Country Airlines is a bad airline
While Sun Country is a dependable carrier with many unique perks and benefits for customers, it also has a few things that bother some travelers.
These are the 4 cons that make Sun Country Airlines a bad airline.
Most flights are concentrated in Minneapolis and many routes are seasonal
Most of Sun Country's flights originate from Minneapolis, a huge inconvenience for travelers who don't live in or around the area.
While there are routes from different major airports, you may find it difficult to get the exact route you want from your airport.
Moreover, almost all of the airline's routes are seasonal, so your flight options must be flexible throughout the year as the number of available flights from your local airport decreases.
Poor customer service
Sun Country may not have the best customer service, and the airline is notorious for having numerous complaints, with poor reviews on sites like TripAdvisor, Yelp, and AirlineRatings.
Usually, these are complaints about delayed flights, mishandled baggage, poor communication, and various fees that increase travel costs.
You pay for bags and various add-ons
While Sun Country's affordable fares are appealing, it comes at a cost if you consider extra fees for basic inflight services like carry-on luggage, ticket changes, and seating arrangements.
Only an under-seat bag is included with your flight fare.
Overhead and checked bags will attract at least $30, and you can part with as much as $100 for what the airline considers oversized bags.
The airline charges flight change fees
Many airlines have dropped their flight change and cancellation fees, so if your plans aren't solid and you're likely to make last-minute changes, Sun Country may not be your best choice.
The airline charges a fee of $49 per leg of travel if you need to change a flight after 60 days have passed before your departure.
You can also expect to part with up to $79 for flight changes two weeks before departure. Moreover, you'll incur a fee if you cancel your flight.
Sun Country Airlines' alternatives
Sun Country may not check all your boxes depending on your needs and preferences. That said, flying with an alternative reputable carrier might make more sense, and these are the best alternatives to Sun Country Airlines.