Omni Air International is a U.S.-based private international airline that operates flights for the Air Transport Services Group, its parent company. The airline specializes in providing tailored passenger and government charter services, ACMI (Aircraft Crew Maintenance Insurance) wet leasing, airline startup and route development, and aircraft maintenance.
The airline is headquartered in Hangar 19 of the Tulsa International Airport in Tulsa, Oklahoma. With its 14 widebody Boeing aircraft fleet, Omni Air International operates flights worldwide, flying 130 routes yearly. As a trusted charter airline with a proven safety, reliability, and flexibility record, you can expect a lot from Omni Air.
However, it has its fair share of cons, and it's been criticized for its role in controversial deportation flights. Let's get started so you better understand what it is like to fly with SkyWest.
Here's if Omni Air International is a good airline
Omni Air International is a dependable private international airline with good on-time performance. It operates safe charter flights all over the world and allows clients to customize their inflight experience, even allowing custom branding. The planes have comfortable seating, convenient onboard amenities and free entertainment. It also has a reasonable baggage policy.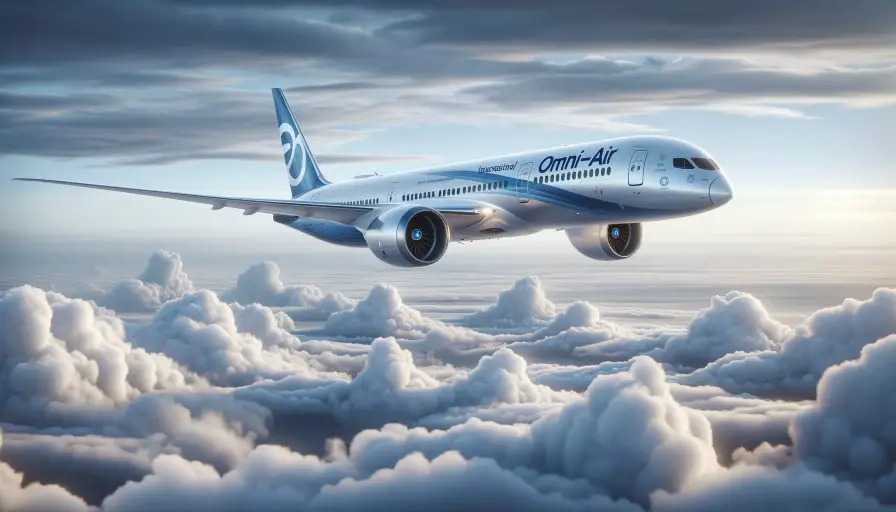 7 pros why Omni Air International is a good airline
Omni Air International has distinguished itself as a dependable charter airline with an appreciable global route network, and it offers benefits and perks you may not enjoy with other carriers. These are the seven reasons why Omni Air International is a good airline.
It is a reliable carrier with good on-time performance
Omni Air International is a reliable charter airline that will deliver well within your expectations if your primary concern is on-time performance.
The airline recommends arriving at the airport 2 ½ hours before your scheduled departure time and checking in at least two hours before that time.
Otherwise, they might have to cancel your transportation for that segment.
Additionally, you must be in the boarding area 45 minutes before departure, and the aircraft doors will close 10 minutes earlier.
To be on the safer side and avoid wasting time or being denied boarding, be sure to carry a government-issued photo identification, like your DL.
This applies to all adults 18 years and over, and you'll also need a valid passport and all other required travel documents for international travel.
It operates safe charter flights all over the world
True to its name, Omni Air International operates year-round flights worldwide, and it takes pride in flying over 35,000 miles daily and some 130 routes annually.
But unlike major commercial airlines with fixed routes, Omni Air's routes could change depending on the contracts it has with various clients and the government.
Omni Air International offers comfortable seating options
Omni Air exclusively flies a capable fleet of widebody Boeing 767 200/300 ERs and Boeing 777-200 ERs to ensure your flights are as comfortable as possible.
The leather seats are comfortable and offer ample legroom, even for the Economy class.
The airline guarantees it will deliver the right seating configuration to meet your needs while ensuring all passengers get an outstanding service.
198 Economy seats are at least 17.5 inches wide, while the Business seats are 18.5 inches wide and are reclinable.
It has convenient inflight amenities and free entertainment
Omni Air's planes are equipped with an impressive range of inflight amenities for passenger convenience, and you get free entertainment.
The airline admits that it continually invests in its fleet to surround each traveler with style, comfort, and safety.
Passengers can enjoy LED lighting with dual color settings as well as the Zodiac Aerospace RAVE In-Seat On-Demand 8.9" seatback displays.
You also have access to USB charging ports and power outlets so you can plug in your devices and stay connected throughout your flight. Best of all, you have free access to movies, shows, and games.
You can have a custom inflight experience
One of the perks of opting for a charter flight with Omni Air is that you can define your own inflight experience. The airline offers the following categories of charter:
Entertainment charter: film crews, sports teams, and music tours
Corporate and leisure
Emergency evacuation
Government and military
You can have custom configurations inside the aircraft and just about everything is tailored to suit your preferences, including meals and refreshments.
A dedicated customer support representative will help you plan your trip, and the airline's maintenance staff will be onboard to ensure your safety and reliability worldwide.
That being said, you can fly non-stop from your city of choice and enjoy as much flexibility, even if you need more than one aircraft, one time or long term.
You can opt for custom branding and livery
Omni Air delivers where you need aircraft branded with custom logos and colors to suit your specific needs.
They can even have their crew outfitted with a custom livery for short or long-term periods.
The airline has a reasonable baggage policy
Omni Air allows each passenger to check up to two pieces of baggage provided the total outside dimensions of each piece don't exceed 80 inches.
Each passenger can board the plane with one piece of carry-on baggage as well as a small personal item like a purse or briefcase.
The total outside dimensions of carry-on bags should not exceed 45 inches, and these items should fit under a passenger seat or in an enclosed overhead bin, all spacious enough.
3 cons why Omni Air International is a bad airline
While Omni Air is a dependable charter airline with many unique offerings for its clients, it could also improve some areas.
These are the three cons that make Omni Air International a bad airline.
It lacks a straightforward online reservation and check-in system
Unlike major commercial airlines and regional carriers that make it simple to make reservations and check-in for flights online, Omni Air doesn't offer that convenience.
There is no direct way to do this on their website, and they don't have a mobile app either.
Your only option is to contact the airline for such queries, and the telephone line is 918-836-5393.
If you'd like to make personal arrangements, reach their headquarters at 3303 N Sheridan Road, Hangar 19 of the Tulsa International Airport in Tulsa, Oklahoma.
Inconsistent customer service
While Omni Air strives to offer memorable customer experiences, it may not have the best customer service, and some passengers have reported inconsistent travel experiences with the airline.
Usually, the complaints have to do with poor communication, old planes, and various fees that increase travel costs.
It has been criticized for operating high-risk deportation flights
Omni Air is one of the few airlines that have shown willingness to cooperate with the Immigration and Customs Enforcement agency in controversial deportations that have also been termed "high-risk."
This has attracted criticism, not to mention it has been accused of engaging in price gouging over its role in such flights.
Omni Air International alternatives
Omni Air may not suit your specific traveling needs and preferences, and it's only fair to look for an alternative reputable carrier if that's the case. These are the best alternatives to Omni Air International: